1. Golden Knights saved best for last and advance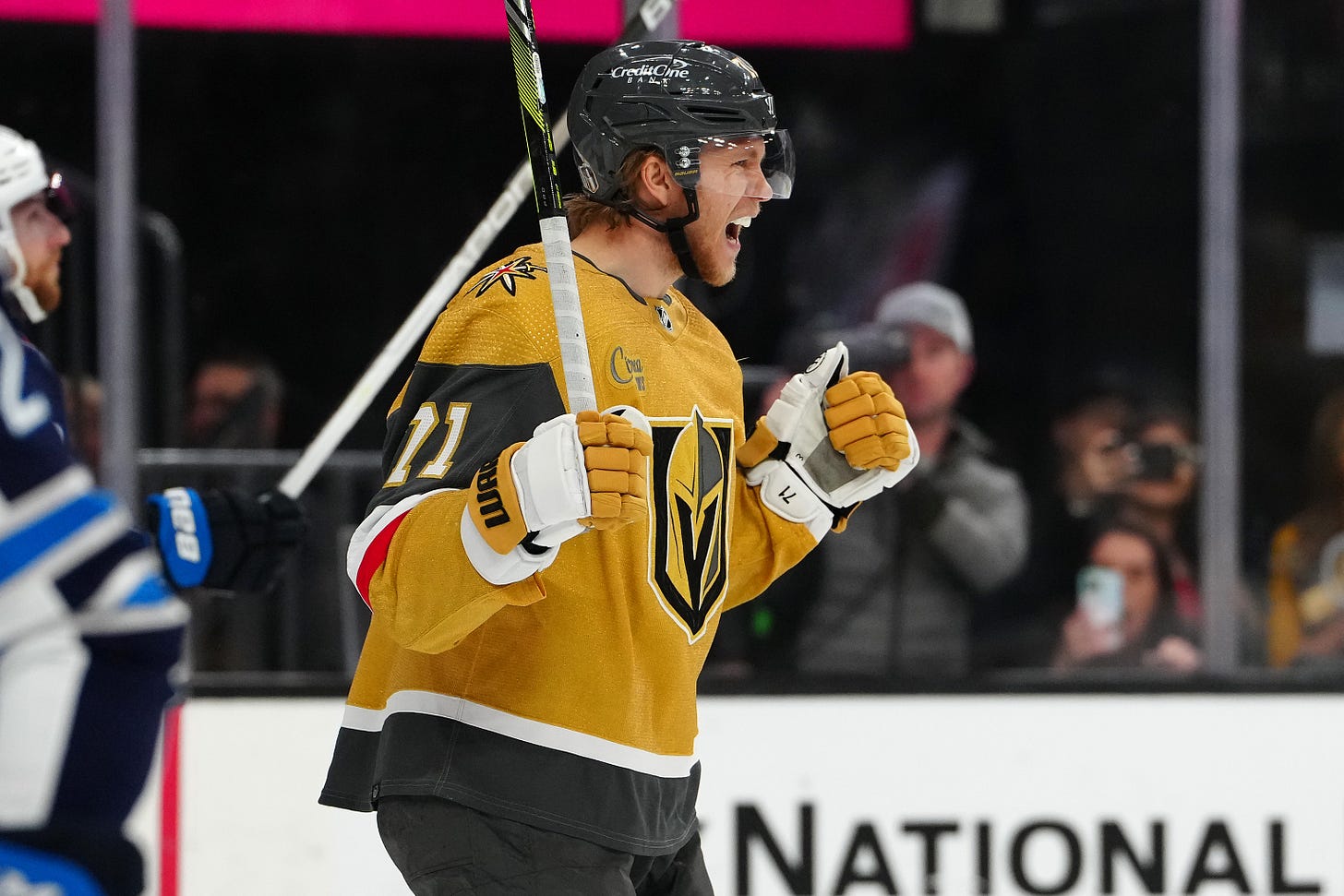 Early goals in the first and second periods put Vegas in the driver's seat as the Golden Knights advanced to round two with a 4-1 win over the Winnipeg Jets. The Sporting Tribune's Steve Carp was at T-Mobile Arena and has more from the first team to advance in the Stanley Cup Playoffs.
One series down, three to go.
The first handshakes of the NHL's Stanley Cup Playoffs were at T-Mobile Arena Thursday night as the Vegas Golden Knights thoroughly outplayed the Winnipeg Jets en route to a 4-1 win in front of 18,476 and a five-game victory in their opening-round best-of-seven matchup.
The Knights will get some time to rest up before starting the Western Conference semifinals against the survivor of the Edmonton-Los Angeles series which has been a back-and-forth affair. The Oilers can advance with a win over the Kings on Saturday at Crypto.com Arena.
"We saw Carolina, Boston and Toronto had a chance to close out a series and we found a way to get it done," Knights coach Bruce Cassidy said. "We still have work to do. We know that."
Click here to read more.
---
2. Chargers bolster offense by drafting Quentin Johnston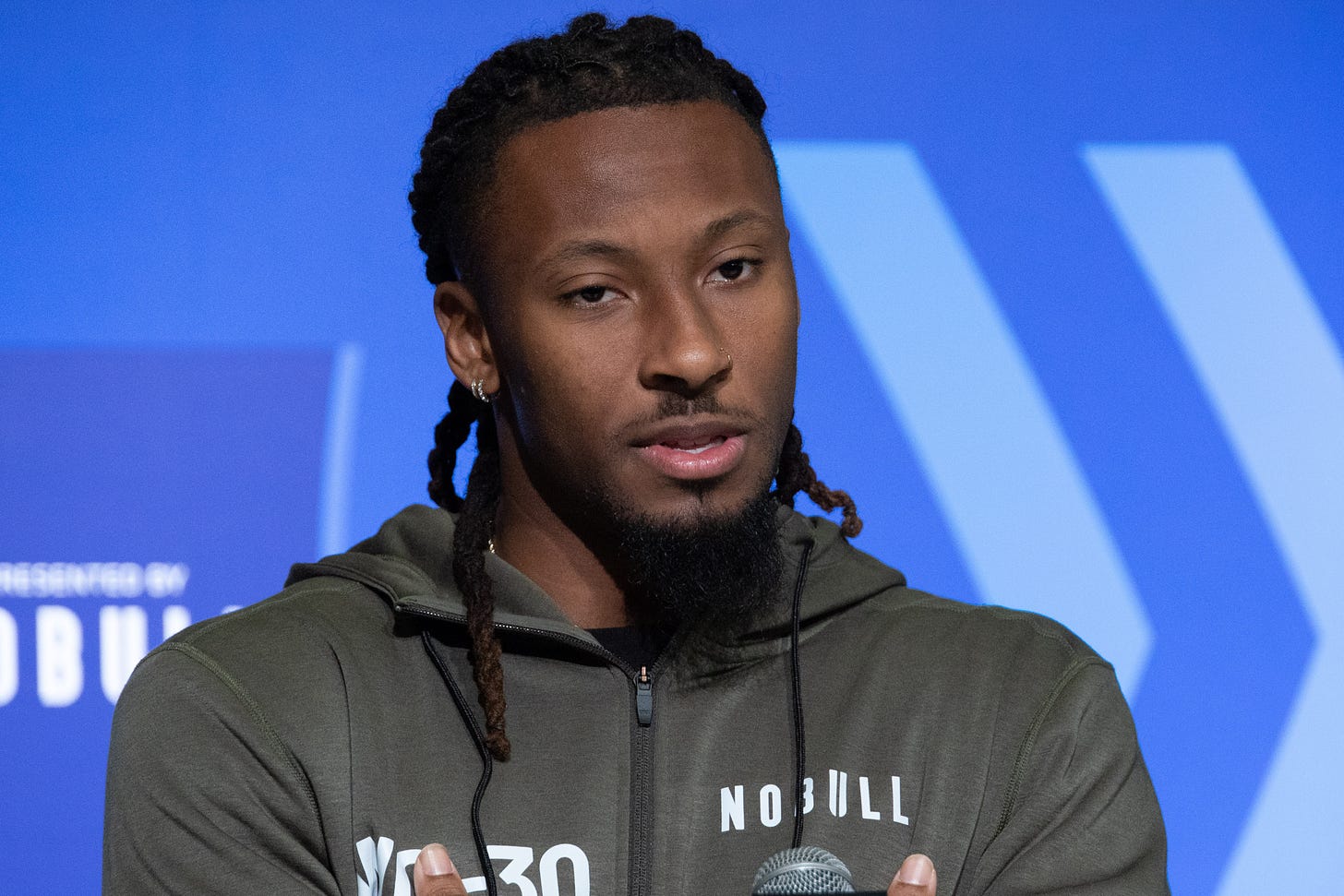 The Los Angeles Chargers added a weapon to their offense by drafting TCU wide receiver Quentin Johnston. The Sporting Tribune's Fernando Ramirez was at Chargers headquarters and has more on Justin Herbert's newest weapon.
The Chargers offense has been missing one key element, speed. Luckily, only one wide receiver had been selected when it was their turn at 21, so they went with TCU receiver Quentin Johnston.
He is a big receiver at 6'3, almost the same build as Mike Williams, but Johnston has speed. For his size, a player shouldn't be able to move the way he does.
"Being a six-foot-four, taller receiver that is able to create real separation at the line, as well at the top of the route," Johnston said. "Then, what I can do with the ball in my hands is something that, I feel like, it's a no-brainer for somebody to pick me."
Click here to read more.
---
3. Raiders nab edge rusher Tyree Wilson with 7th overall draft pick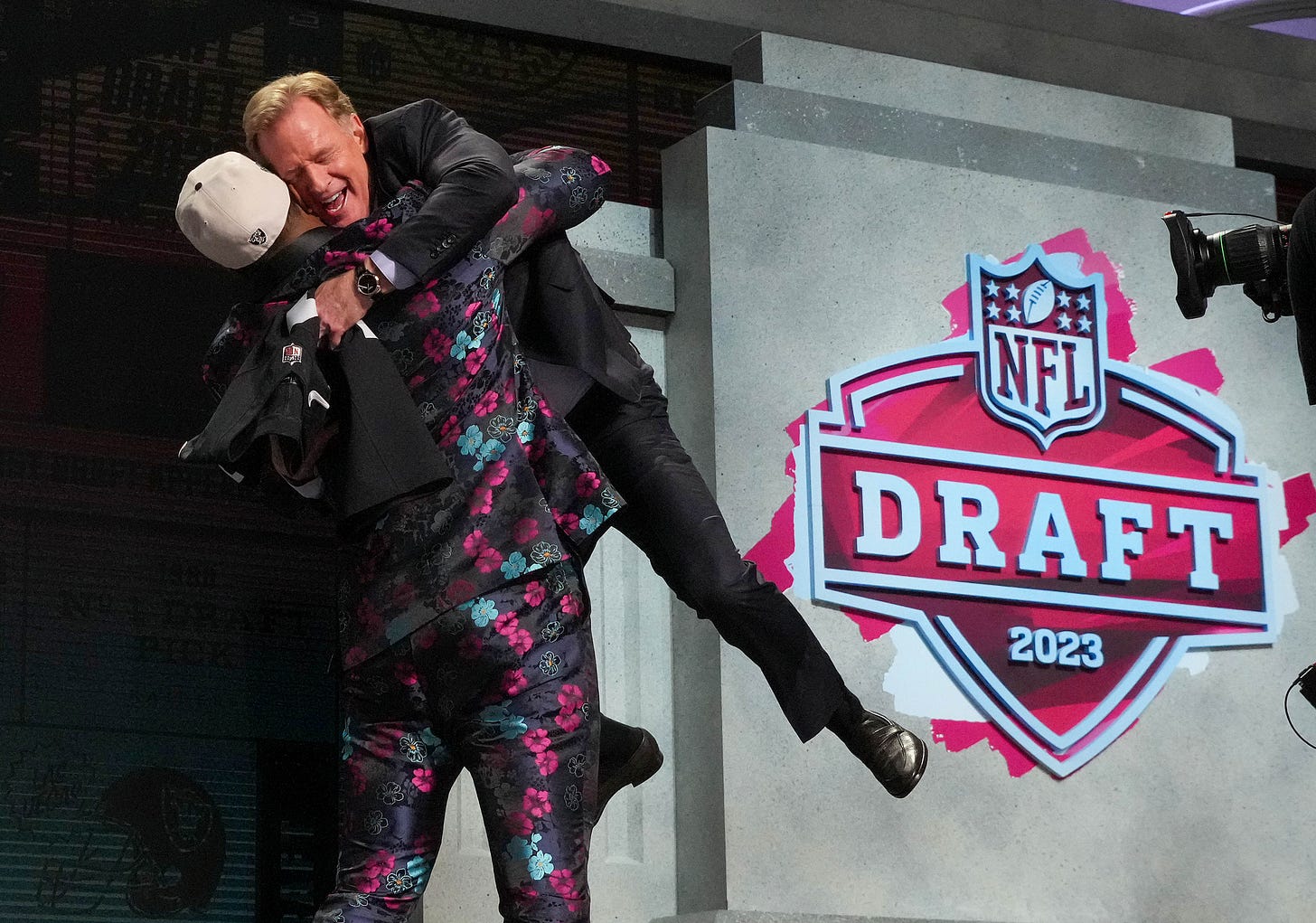 The Las Vegas Raiders drafted Tyree Wilson with the 7th overall pick in the NFL Draft on Thursday night. The Sporting Tribune's Willie Ramirez was at Raiders headquarters and has more on the selection.
The Las Vegas Raiders selected Texas Tech edge rusher Tyree Wilson with the seventh overall pick Thursday night in the NFL Draft.
Wilson is an explosive edge rusher who will complement Maxx Crosby with his elite size and massive wingspan and add to a Raiders defense that ranked 30th last season with 1.6 sacks per game. His length and lateral quickness certainly resemble Crosby's talent, and will help cause havoc in backfields as a rushing game disruptor.
"I had a great (top) 30 visit there, so I was curious to see what they were going to do, and I'm excited that they picked me," Wilson said during his introductory Zoom session with the media.
Wilson has the chance to make an immediate impact with 33-year-old Chandler Jones coming off a sub-par season that included a significant injury.
Click here to read more.
---
4. Clippers committed to Leonard, George and Lue returning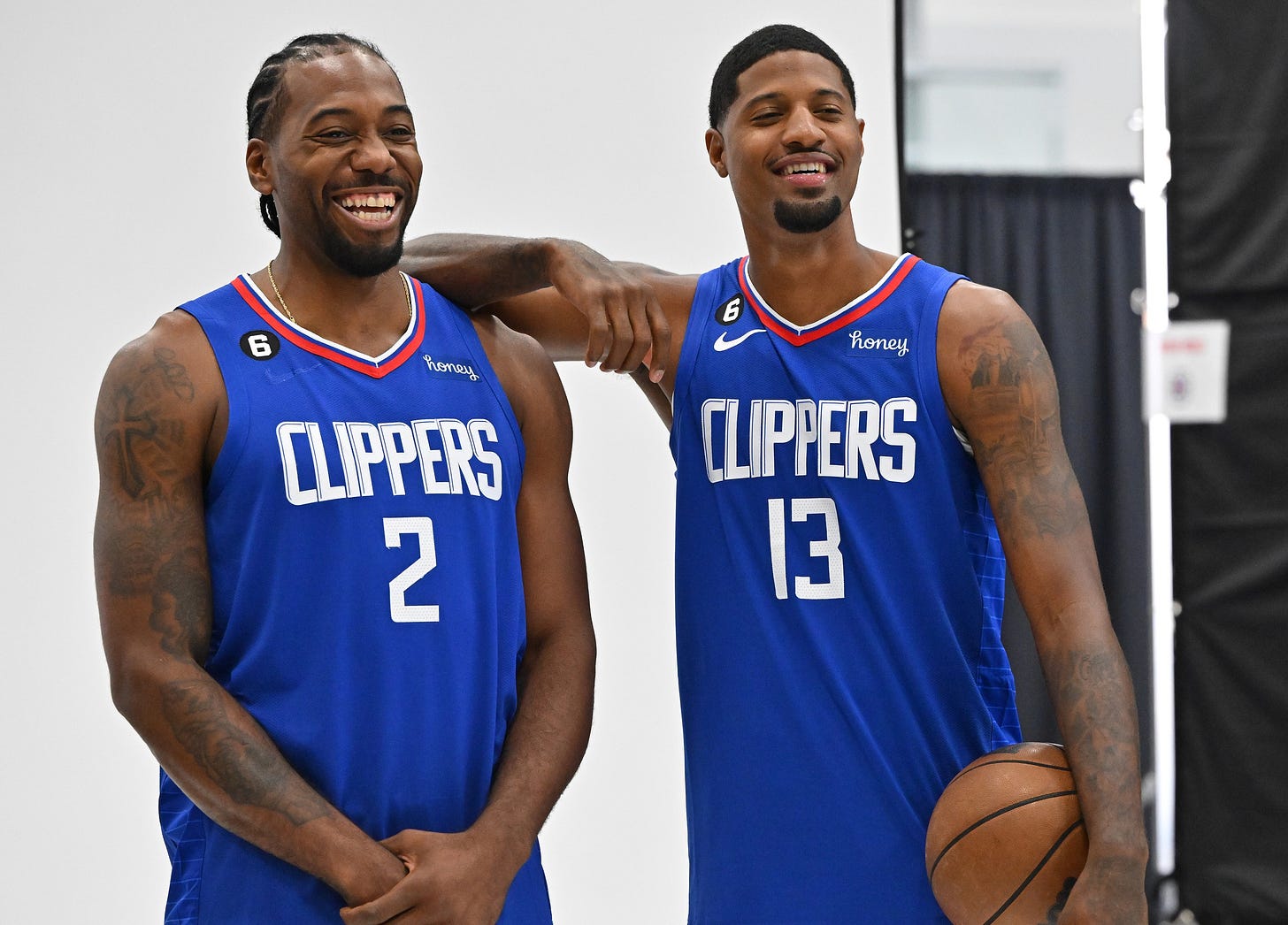 The Clippers are committed to running it back next season with Kawhi Leonard, Paul George and Ty Lue. They even want Russell Westbrook back. The Sporting Tribune's Mark Medina was at Clippers headquarters and has more on the team's plans going into the offseason.
Ever since joining the LA Clippers four years ago, Kawhi Leonard and Paul George have never stayed healthy consistently. Regardless of that extensive injury history, the Clippers reaffirmed their long-term commitment to their two stars.
"We have two of the best players in the world," Lawrence Frank, the Clippers' president of basketball operations said on Thursday at the team's practice facility. "When healthy, they give us a chance each and every year."
The Clippers haven't had a chance every year, however, because they haven't stayed healthy.
Click here to read more.
---
5. George Foreman biopic set to hit big screens on Friday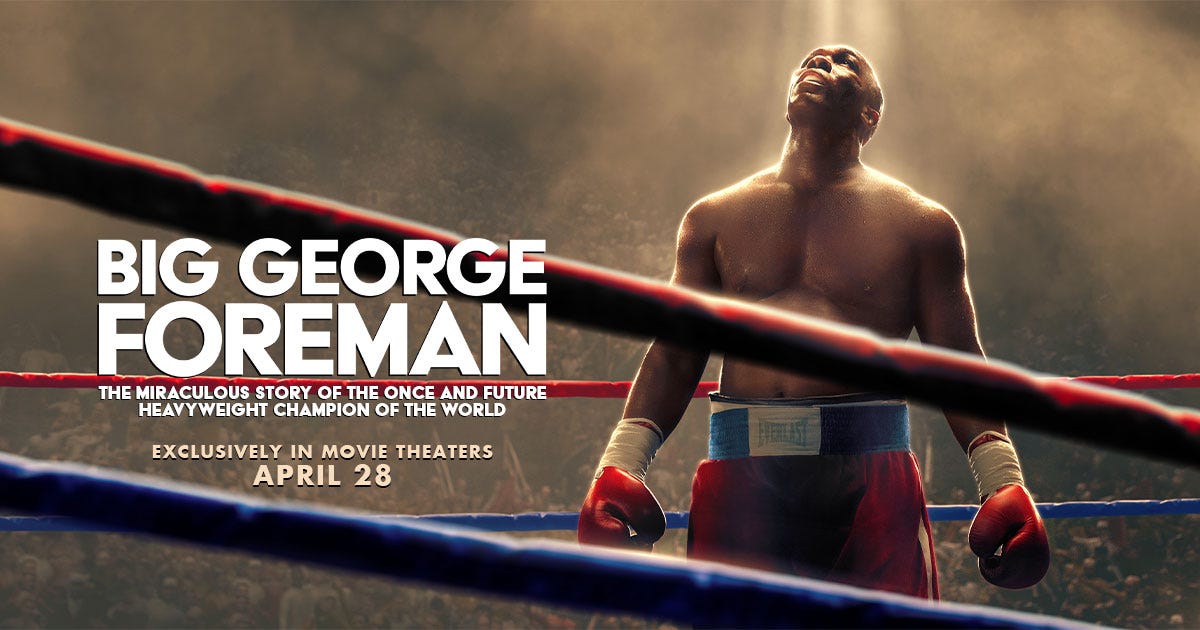 George Foreman's life story is documented in the new film "Big George Foreman," the miraculous story of the once and future heavyweight champion of the world, and The Sporting Tribune's Willie Ramirez got the chance to talk to Foreman to preview the film.
"Big George Foreman: The Miraculous Story of the Once and Future Heavyweight Champion of the World" will hit all theaters on Friday.
"I've written these books, one in particular was 'God In My Corner,' and the movie was taken from that book," Foreman said. "It's easy to watch your life on pages because people have to use their imagination, but not so easy when they bring it to art on film. Because there's some embarrassing moments I had in my life.
"When they're doing a movie, you try to tell your whole story, but they had to cut a lot of things out. And I remember thinking, 'I wish I could have cut a lot of things out of my life.' Some of the things I've had to go through that I didn't want to relive again. But the movie, they captured what it was all about."
Click here to read more.
---
6. Justin Herbert focused on rehab not extension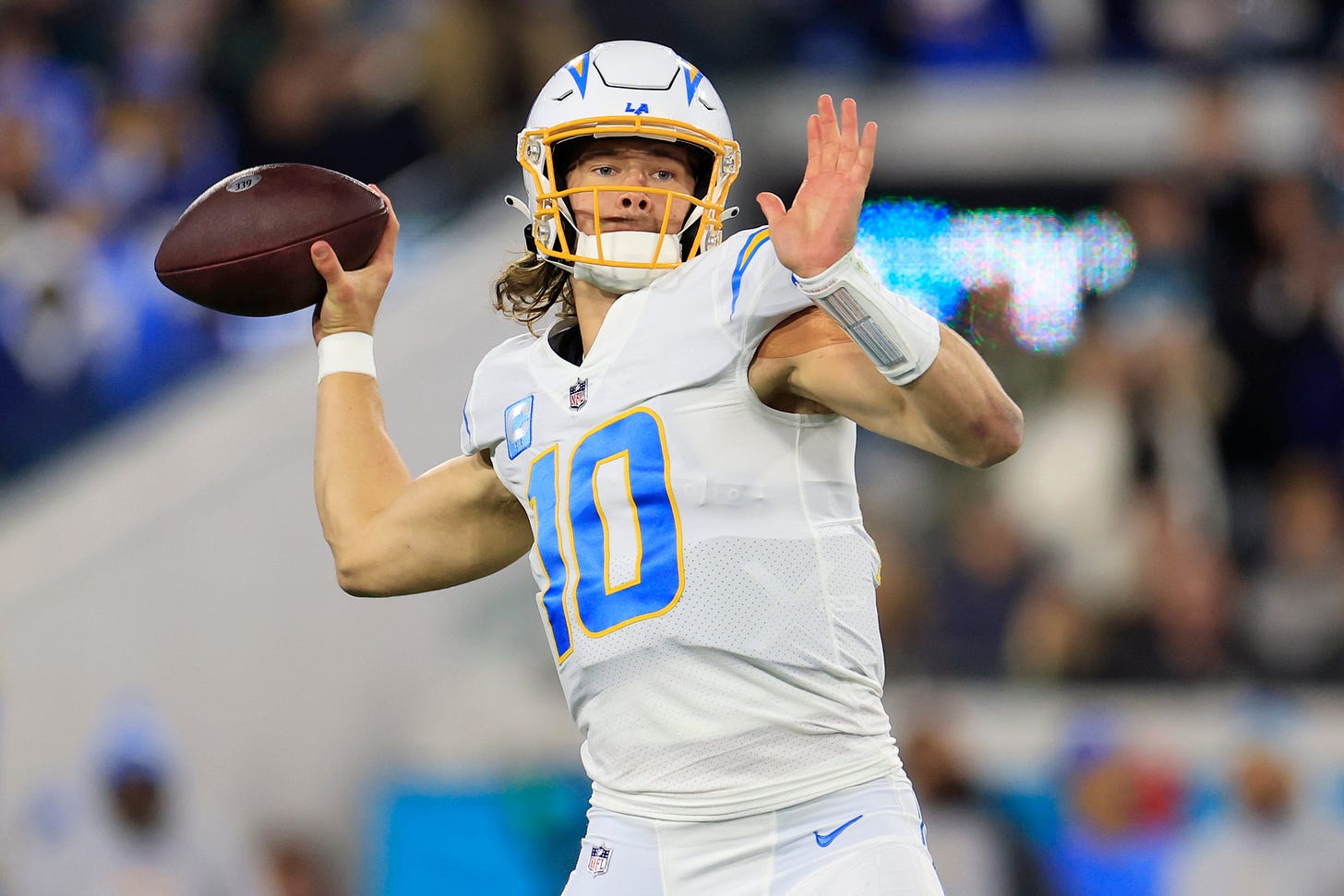 Chargers quarterback Justin Herbert isn't focused on his contract but on rehabbing his shoulder. The Sporting Tribune's Fernando Ramirez caught up with Herbert, who said he'll be ready for next season.
Justin Herbert is most likely next in line to get a contract extension. He was the third quarterback drafted in the 2020 draft class.
Only Jalen Hurts of the Philadelphia Eagles has signed an extension from that class. The dominoes are starting to fall into place for the next generation of quarterbacks to be paid.
Besides Hurts, the lingering contract extension between Baltimore and quarterback Lamar Jackson was signed Monday morning. Both making over $50 million a year.
"I think those two are incredible athletes," Herbert said about Jackson and Hurts. "So, they're great quarterbacks and obviously great leaders. So, they're very deserving of that."
It feels like Herbert may be next.
Click here to read more.
---
7. Odds and Ends presented by Circa Sports
Here are some odds at Circa Sports if you're thinking about placing a wager today: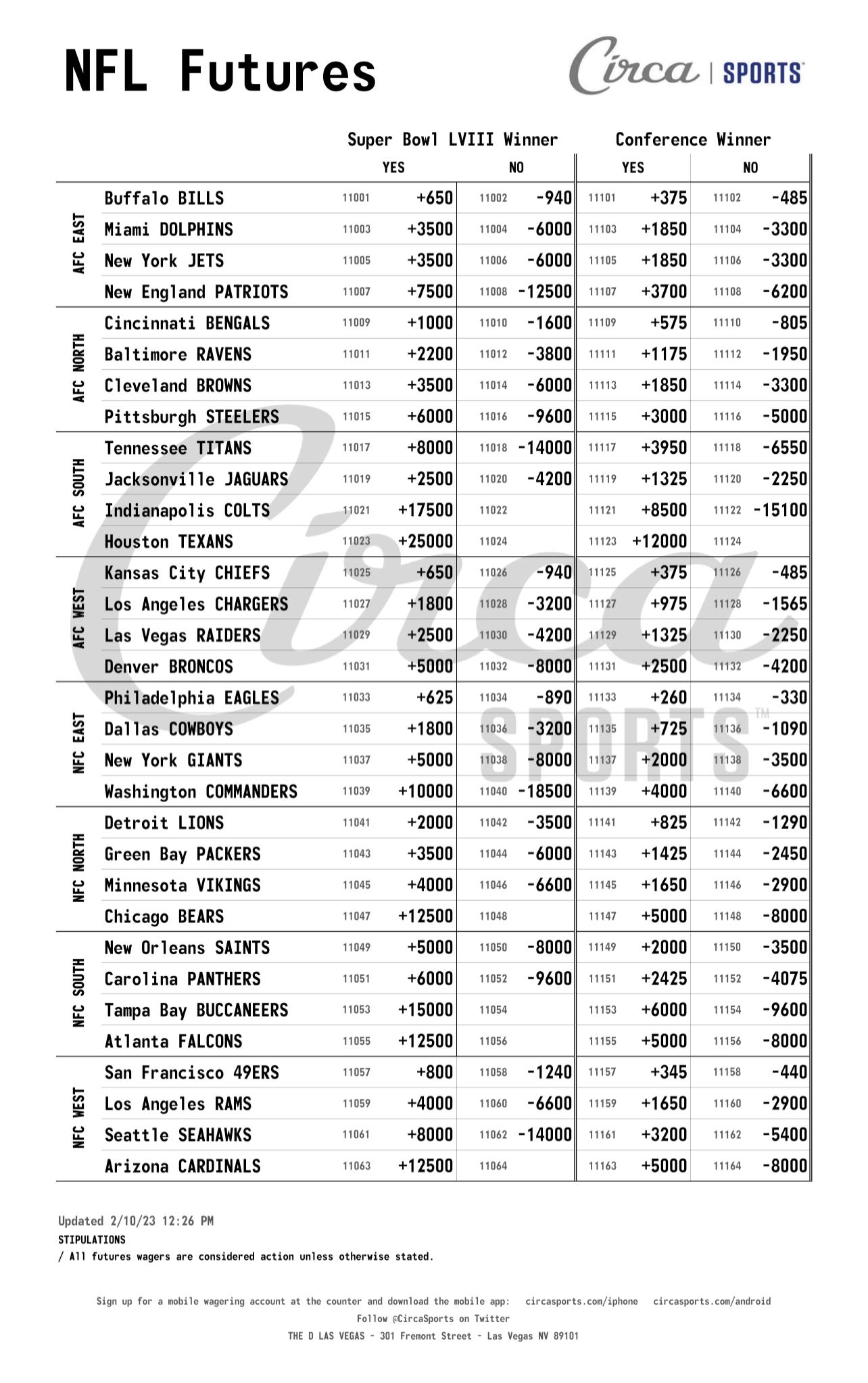 ---
8. Ticket Time presented by TickPick
Here are the "get in" prices for tickets in the area if you're thinking about going to a game today:
7:00 p.m. – St. Louis Cardinals at Los Angeles Dodgers – $27
7:30 p.m. – Memphis Grizzlies at Los Angeles Lakers – $250
---
9. On the Air presented by Coca-Cola
Here are the game times and television channels for professional teams in the region today:
5:00 p.m. – Los Angeles Angels at Milwaukee Brewers – Bally Sports West
7:00 p.m. – St. Louis Cardinals at Los Angeles Dodgers – Apple TV+
7:30 p.m. – Memphis Grizzlies at Los Angeles Lakers – Spectrum SportsNet, ESPN
---
10. The Sporting Tribune is on the radio in Southern California, Las Vegas & Hawaii
The Sporting Tribune's Arash Markazi was joined by Armani Buckets and Ji Hae Wiley on Thursday to discuss the Lakers failing to close out the Memphis Grizzlies in Game 5, how the Lakers need to view Game 6 as their Game 7, what the Clippers can do this offseason to improve the team after losing in the first round, the LA Kings needing to win two elimination games to advance and if any season that doesn't end in a championship should be viewed as a failure.
Listen to The Arash Markazi Show presented by The Sporting Tribune on The Mightier 1090 ESPN Radio in Southern California, 98.5 The Bet in Las Vegas and the Hawaii Sports Radio Network 95.1 FM and 760 AM in Hawaii. You can also listen to the show on Spotify, Apple Podcasts, Google Play and Stitcher.
Thank you for reading. Please click here to subscribe to The Morning Column presented by The Sporting Tribune. It's totally free and will be delivered to your inbox every morning.